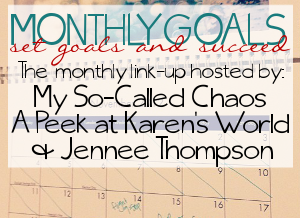 Eat healthy: I would say I did an overall good job at this, although I should probably eat more since I am breastfeeding
Workout regularly: FAIL. Its so hard to find time to exercise regularly because of the baby, hopefull I can figure out a plan that works for me soon.
Finish a book: FAIL. Maybe I need to start a different book, the book I am reading is just not interesting me at all.
Finish a knitting project: FAIL. I ran out of yarn! (I'm such a rookie)
Oh, June, where did you go!?
JULY:
Finish a book!
Start redoing my patio/balcony so my husband and I can sit out there and enjoy the summer
Start a blog schedule.
Finish a knitting project!!
Put up the clothes I want to sell on Ebay
Hopefully, this month takes its time! I need to get motivated and I think this linkup is a great idea. Its nice to share goals with others and see what other people are getting accomplished.
Thanks for stoppin by!